Grove Lodge Veterinary Hospital
Just like a human hospital, our Veterinary Hospital in Worthing, West Sussex provides services for 'out patients', ie those attending appointments who can go home afterwards and 'in patients', those animals who need longer-term care with us and therefore need to be hospitalised.
We also have our own 'casualty department' -
our emergency service
at our animal hospital, which is always fully staffed and ready to care for your pets 24 hours a day, 365 days a year. Our dedicated night team consists of a vet and 2 nurses who are on the premises throughout the night caring for our in patients and ready to deal with any emergency.
In our state of the art hospital, we have separate cat and dog wards as well as a dedicated isolation ward for contagious patients, which can be accessed via an external door, avoiding the risk of infection.
As well as offering routine appointments and emergency out of hours care, the Hospital in Worthing is the main base for our
referral services
and surgical procedures. We are delighted to be able to offer
laparoscopic spaying
at our Hospital and also at our
Brighton branch
.
We offer a very extensive range of services, from our free
Practice Nurse Clinics
and
puppy parties
to the provision of some of the most advanced surgical techniques in Europe.
Everyone at Grove Lodge Vets is an animal lover, so cuddles and care are the order of the day when your pet is being looked after by us. Our team looks after your beloved pets as if they were their own, ensuring they are as comfortable and happy as possible during their stay with us.
For the security of our staff and to allow us to prepare for your pet's arrival please call us on 01903 234866 so we know you are on your way.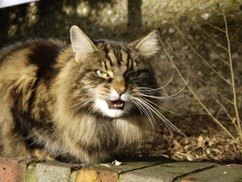 Our H
ospital
in Worthing used to be home to our beautiful, characterful
Practice Cat, Tiggy
, who very sadly passed away in May 2015.
Tiggy ruled her staff with an iron paw, but loved a tickle behind the ear too! She is very much missed by everyone here at Grove Lodge Vets as we all loved her dearly.
Please DO NOT email urgent queries as emails are checked 8 am to 5 pm Monday to Friday.