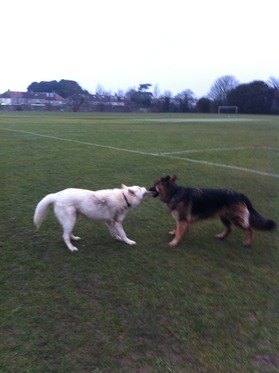 What Can I Expect When My Dog Comes to be Neutered?
When can I have my dog neutered?
As a general rule, your dog can be neutered from 6 months of age.
Grove Lodge Vets
offers a free health check appointment at 6 months with the vet, at which you can discuss neutering.
Will my dog stay overnight?
Generally, your dog will be able to go home the same day and will not need to stay overnight.
Will my dog be in pain after the operation?
Grove Lodge Vets takes great care to ensure your pet's pain is well controlled. Your dog will have a pain killing injection during the operation and will also be sent home with some painkillers.
How long will it take for my dog to recover?
Your dog will want to run about long before it is safe to do so! They will need to be seen 3 to 5 days after the operation to check the wound is healing well. We recommend giving your dog lead only exercise of approximately 10 to 15 minutes for 10 days post surgery, after which you can return to normal exercise.
Grove Lodge Veterinary Group is proud to offer keyhole (laparoscopic) bitch spays
Laparoscopy is used for minimally invasive/"keyhole" procedures to minimise post op pain or discomfort and shorten recovery times.
Not every dog is a suitable candidate, with small and overweight animals sometimes being more difficult to perform surgery on.
The majority of bitches will undergo ovariectomy (just the ovaries removed) only unless a problem is found with the uterus at surgery in which case an ovariohysterectomy (ovaries and uterus removed) will be done.
Please ask your vet for more detailed information and click here for more information

about spaying and castration.