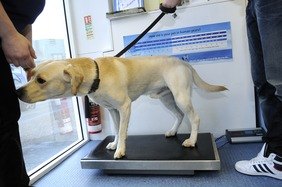 The Grove Lodge Vets Practice Nurses can give you advice on helping your pet lose weight safely and effectively - and the appointment is free!
We have electronic walk-on scales at our Hospital in Worthing and our 6 branches so your pets can be weighed easily.

We have a wide variety of pet foods available at internet prices and our Practice Nurses are happy to help you choose the most appropriate diet for your pet, whatever their dietary requirements.

Appointments with our Practice Nurses to discuss diet are free of charge. Our Practice Nurses can also advise you regarding the care of your senior pet.
Call your nearest branch of Grove Lodge Vets to book a free appointment with one of our Practice Nurses.