Ways to remember your loved ones
Posted by Abigail on Tuesday 20th of July 2010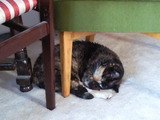 Anyone who has lost someone close to them will know how important it can be to have a permanent memorial, something that carries on after they are gone.


Often when people lose pets, others are not as sympathetic as when it's a person. Not everyone understands pets are a significant member of the family and people need support to come to terms with their loss.

Some pet owners like to create a living memorial to their pet. I have a beautiful pot containing sunny coloured flowers to celebrate the life of my Katie Cat, as she loved lying in a warm patch of sunshine. The plants flower and come back every year. It was therapeutic making the pot look pretty and each time I water and tend to the plants, I think of my cat.

I have been looking at different ways to celebrate the life of our pets when they pass away and came across the Memorial Walk at Ferring Country Centre. You can buy a tree, bench or plaque which will be placed in the tranquil setting of the Memorial Walk. The nature path is a beautiful place and wildlife is encouraged to the area by keeping it as natural as possible.

Alternatively, you might like to dedicate a tree to your loved one through The Woodland Trust who work to plant trees across the country, ensuring we have beautiful woodland to enjoy and keep us healthy.

And as well as remembering your pet, you are contributing to two very worthwhile charities.

I hope you like my ideas. If you have created a memorial to your pet, why not let me know and send a photo too.

If you need someone to talk to after the loss of your pet, please call Grove Lodge and we can arrange a call from one of our trained staff.