The Cinnamon Trust
Posted by Abigail on Thursday 24th of October 2013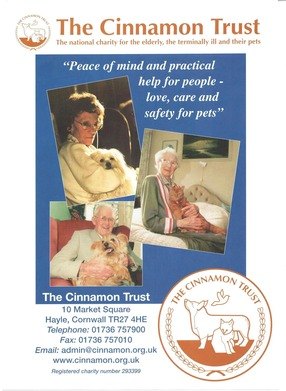 Here at Grove Lodge Vets we are often contacted by relatives of clients who need some assistance with their pets due to ill health. We will do everything we can to try to help and this can involve contacting The Cinnamon Trust.



The Cinnamon Trust is the national charity for the elderly and terminally ill and their pets. They seek to keep owner and pet together for as long as possible with the help of a national network of volunteers who assist when day to day care poses a problem.


The aim of The Cinnamon Trust is to relieve the owners of any worry concerning the welfare of their pets both during and after their own lifetime making them unique amongst charities. Currently, they are urgently looking for dog walking volunteers to help a resident of Worthing.

All volunteers help in the ways that are most appropriate to them. Teams take it in turn to visit housebound owners, to take dogs for daily walks, volunteers foster pets as one of their family when owners face a spell in hospital, take pets to the vet or maybe clean the budgie's cage out. They take any problem posed in day to day care of pets.

Currently there is a Springer Spaniel in the Worthing area who needs someone to take her for lovely walks. If you can help, contact Sally at The Cinnamon Trust direct on 01736 758707 or email her at sallycollins@cinnamon.org.uk or to enquire about other animals in need of extra care at a difficult time in their lives. Any help you are able to give will be very gratefully accepted.