Ross the lovely lurcher!
Posted by Abigail on Tuesday 5th of April 2016
When Ross the lurcher puppy was brought into Grove Lodge Vets, he was a sorry sight. Freezing cold, soaking wet and severely malnourished he was totally bewildered by his terrifying experience. Despite having been tied to a post with a piece of string and abandoned alone, in the dark, he still managed to wag his long tail at our night team. Everyone immediately fell in love with him.
As soon as he was put on the floor, it was obvious that little Ross had a problem with his front legs, as they were badly bowed and he couldn't put his paws flat on the floor. He was able to move about happily though and didn't seem concerned as he ran about playing with toys! After an initial check over, Ross was settled in a warm kennel for the night with lots of soft blankets and given a good meal.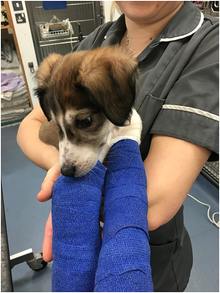 The next day, the Dog Warden came along and met Ross as all stray dogs must be reported to the local Dog Warden. Like everyone, he was charmed by this delightful dog and agreed funding for Ross's treatment. Our Orthopaedic Referral Vet, Mark Pertwee examined him thoroughly then xrayed his legs to establish what the problem was. Based on the results, Mark decided that Ross's issues would probably be corrected using splints, restricted exercise and a good diet.

By this time, Ross had endeared himself to everyone in the practice and enjoyed many cuddles with the whole team. Just before he was due to be taken to a foster home, our Director, Andrew Ash happened to meet him. Having had a lovely lurcher in the past, Andrew and his family have a particular soft spot for this elegant breed and he immediately fell in love with Ross. The fosterer was cancelled and Andrew took him home.

Andrew's wife, Kate, told us that at the time she was walking along a beach called Rossadilisk in Connemara when Andrew texted her some pictures of a puppy that he said had been found abandoned, tied to some railings in Worthing. She reports that the text messages went something like this:

AA: Pathetic picture of small puppy in blue bandages
Me: Oh no - what's wrong with it, who is it and has it got parents?
AA: Brought in by member of the public. One of my student nurses wants it but has to get go ahead from parents
Me: How old?
AA: 8 weeks
Me: Oh no! What happened?

And so on ... but he didn't tell Kate he had taken Ross home!

The following day Andrew collected Kate from the airport and she asked him what had happened to the puppy. He told her that unfortunately the nurse's parents hadn't been keen, so the puppy had gone to Dogs Trust for rehoming.

Anyway, when Kate got home, in the kitchen was................


At this point, little Ross had no name, so Kate suggested that, as she'd been walking on Rossadilisk beach when she first heard about him, Ross would be a great name.

Now resident chez Ash, Ross is making friends with the family cats Max, with whom he shares his biscuits and would like to make friends and Kitten - she's NOT having it!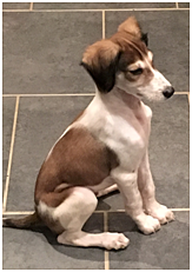 Ross had his splints removed a week later and hasn't looked back.

Understandably his legs were a bit achey at first, but since then his progress has been remarkable and he's thoroughly enjoying hurtling up and down the garden.

We are all delighted that after such a terrible start, Ross has found the lovely forever home he deserves.