Raining cats and dogs!
Posted by Abigail on Thursday 28th of August 2008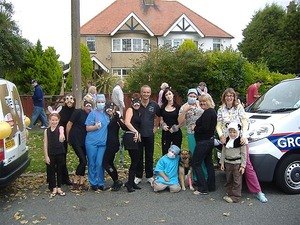 Well, not quite, but it drizzled a bit on the Worthing Carnival on Bank Holiday Monday – but that didn't dampen our spirits or stop us having a brilliant time, as you can see from the photo! If you were among the thousands of people who braved the chilly winds, you might have seen us dressed up as cats, rabbits and vets and giving out info packs to pet owners along Worthing seafront, not to mention collecting money for the Rotary who organised the event – the whole day was wonderful! A huge thank you goes out to the residents of Grand Avenue who very kindly let us use their 'facilities'!