MYTH NO 5: Puppy should never be allowed on the sofa/bed?
Posted by Abigail on Tuesday 3rd of March 2009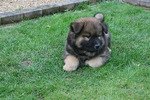 This statement is questionable as all dogs differ. There are dogs of certain temperament or size that mean it would be a good idea not to have them on the bed/sofa. However, most dogs who are clear about your relationship and are aware that you have the final say in where everyone sits can enjoy sitting with you on the sofa or bed without the worry of the dog thinking they own the rights to the furniture!


They should, however, ALWAYS get down immediately when you ask them to.

Set the boundaries for your dog clearly and early on. It is also worth considering if your dog is going to be allowed on the furniture when you visit friends or family.

It is important to bear in mind that a dog sitting so close to you all the time can become too intensely attached to you, which can cause problems further down the line.

There is no general right and wrong, but most owners find it is best not to let their dog sleep on the bed – especially if they are a Great Dane!!