Microchip reunites dog with owners nearly 100 miles away!
Posted by Abigail on Tuesday 16th of February 2010
Chips like these are delicious, but not as useful as microchips!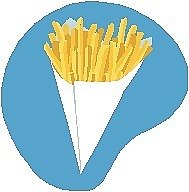 Here at Grove Lodge we impress on owners the importance of getting your pets microchipped and stories like the one belowshow why.

An 8 month old cocker spaniel puppy, Millie, disappeared whilst out on a walk near her home in Middlesex a month ago. Despite frantic searching by her distraught owners, Millie was nowhere to be found.

However, a month later the couple received a phone call from the Chichester dog warden saying they had found Millie happily playing in a country lane with another little dog!

The dog warden scanned her and, finding she was chipped, called her very grateful owners.

Millie would never have been traced had it not been for her microchip.

If your pet is not chipped, contact your local branch of Grove Lodge today to book an appointment. It can be done in a routine appointment, takes just a few seconds, costs less than £17 and is a permanent means of identifying your pet. Do it today!