Gift idea for musical animal lovers!
Posted by Abigail on Tuesday 23rd of March 2010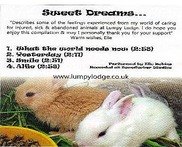 I often post on the blog about a lovely charity called Lumpy Lodge who look after abandoned or ill treated rabbits and guinea pigs who need a safe and loving place to live. Lumpy Lodge relies on fundraising events and boarding small furries to support their work. Elle, who runs Lumpy Lodge, has release a CD of soothing songs to help raise extra funds. At only £5 it is a bargain!


You can buy the CD from the Lumpy Lodge website or at the Easter Egg Hunt on Sunday 4 April 2010.