Chips with everything!
Posted by Abigail on Monday 30th of September 2013
How awful would you feel if you realised your precious pet was missing? And how much worse if you knew your pet had no means of identification to enable you to be reunited?



Grove Lodge Veterinary Group has a Lost and Found Register to which all missing pets are added when worried owners report them. On arrival at our Hospital or any of our 6 branches, the first thing we do with a stray pet is scan them for a microchip.



We are always delighted when a pet has a microchip as we are hopeful we can then reunite the animal with their owner. A good example of the importance and success of microchipping happened recently and resulted in a very happy ending for these owners and their beloved cat. Read on for the full story: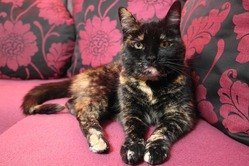 "I am writing to let you know that after 7 weeks my boyfriend and I received a call from the Grove Lodge Vets in Portslade on Saturday to say that our cat Star had been found by a gentleman on Old Shoreham Road and taken in to them. He had been feeding her since Wednesday and trying to catch her but on Saturday she just gave in and allowed herself to be caught.
Star is very poorly and after picking her up, we took her straight to Coastway Vets in Brighton for emergency treatment [Star's owners' usual vets]. She was 3.6 kilos and on Saturday was 1.9 kilos. She has been treated for an inner ear infection and toxoplasmosis. Her organs seem to be ok but her liver is not yet 100%. She is severely malnourished and is unable to balance. She is eating and able to pass urine ok. The good news is that there were no signs that she had been involved in an accident and hopefully her balance will be back to normal soon.
Star will be home with us either tonight or tomorrow if things go well. I cannot even begin to explain how happy my boyfriend and I are and we are eternally grateful to the gentleman who rescued her coz he has saved her life.
I think this highlights how important it is to microchip your pets as if she hadn't been chipped then chances are we wouldn't have found her. Thank you for your help in adding Star to your missing pets database but I am happy to say she can now be removed."
So, for less than £20, your pet can have a permanent method of identifcation and therefore should the worst happen, you stand a very good chance of being reunited. Call your nearest branch of Grove Lodge Vets too book in today.