Bands Night in Aid of WADARS!
Posted by Abigail on Friday 16th of November 2012
How exciting - tickets selling fast and Iron Tyger now confirmed!!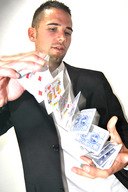 Check out the brilliant Magic-Al working his magic on the night.

The grand finale of Supersaurus and Iron Tyger will be worth waiting for!

Get tickets TODAY from WADARS 0300 3030 999.