Posted by Abigail on Wednesday 8th of June 2016

Is the bird injured? Find out what to do with an injured wild animal.
If it seems healthy, look at the feathers:
Fully-feathered




It's a fledgling.



Fledglings have all or most of their feathers and leave the nest just before they can fly. The parents are usually nearby and will still be feeding the bird.



Don't touch a baby bird unless you are sure it genuinely needs help.



Our wildlife centres care for over a thousand 'orphaned' fledglings each year, picked up by well-meaning people. Most of these birds are not orphans and would have had a better life in the wild.

Leave a fledgling alone and watch from a distance; it's likely that the parents will take care of the bird. Never try to return a bird to the nest; this may disturb the other young birds and may be illegal.

If a fledgling is in immediate danger, place it in a sheltered spot a short distance away.

If you find a

tawny owlet

under a possible nest site, monitor from a distance to see if the parents are nearby. If you hear them calling, leave the bird alone. Tawny owlets can climb back up into the nest.

If, after monitoring, you think a fledgling is genuinely orphaned, take it to your nearest wildlife rehabilitator (see capture and boxing advice below).


No feathers - or only a few




It may be a nestling.



Nestlings will not survive long outside the protection of the nest, take it to your nearest wildlife rehabilitator (see capture and boxing advice below).


Capture and boxing


If it's safe to catch and handle the bird then, wearing suitable gloves, place it into a secure ventilated cardboard box, lined with towel or newspaper (do not offer food or water). Keep the bird somewhere warm and quiet and take it to your nearest wildlife rehabilitator as soon as possible.

It's often faster to take an animal to a wildlife rehabilitator yourself, as your nearest RSPCA officer may be out of the area attending other calls. If you are unable to transport the bird, call 0300 1234 999.

Please don't try to care for young birds yourself - they need specialist care to survive.



---
Posted by Abigail on Tuesday 5th of April 2016
When Ross the lurcher puppy was brought into Grove Lodge Vets, he was a sorry sight. Freezing cold, soaking wet and severely malnourished he was totally bewildered by his terrifying experience. Despite having been tied to a post with a piece of string and abandoned alone, in the dark, he still managed to wag his long tail at our night team. Everyone immediately fell in love with him.
As soon as he was put on the floor, it was obvious that little Ross had a problem with his front legs, as they were badly bowed and he couldn't put his paws flat on the floor. He was able to move about happily though and didn't seem concerned as he ran about playing with toys! After an initial check over, Ross was settled in a warm kennel for the night with lots of soft blankets and given a good meal.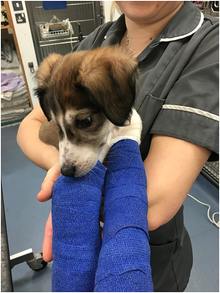 The next day, the Dog Warden came along and met Ross as all stray dogs must be reported to the local Dog Warden. Like everyone, he was charmed by this delightful dog and agreed funding for Ross's treatment. Our Orthopaedic Referral Vet, Mark Pertwee examined him thoroughly then xrayed his legs to establish what the problem was. Based on the results, Mark decided that Ross's issues would probably be corrected using splints, restricted exercise and a good diet.

By this time, Ross had endeared himself to everyone in the practice and enjoyed many cuddles with the whole team. Just before he was due to be taken to a foster home, our Director, Andrew Ash happened to meet him. Having had a lovely lurcher in the past, Andrew and his family have a particular soft spot for this elegant breed and he immediately fell in love with Ross. The fosterer was cancelled and Andrew took him home.

Andrew's wife, Kate, told us that at the time she was walking along a beach called Rossadilisk in Connemara when Andrew texted her some pictures of a puppy that he said had been found abandoned, tied to some railings in Worthing. She reports that the text messages went something like this:

AA: Pathetic picture of small puppy in blue bandages
Me: Oh no - what's wrong with it, who is it and has it got parents?
AA: Brought in by member of the public. One of my student nurses wants it but has to get go ahead from parents
Me: How old?
AA: 8 weeks
Me: Oh no! What happened?

And so on ... but he didn't tell Kate he had taken Ross home!

The following day Andrew collected Kate from the airport and she asked him what had happened to the puppy. He told her that unfortunately the nurse's parents hadn't been keen, so the puppy had gone to Dogs Trust for rehoming.

Anyway, when Kate got home, in the kitchen was................


At this point, little Ross had no name, so Kate suggested that, as she'd been walking on Rossadilisk beach when she first heard about him, Ross would be a great name.

Now resident chez Ash, Ross is making friends with the family cats Max, with whom he shares his biscuits and would like to make friends and Kitten - she's NOT having it!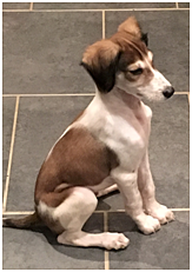 Ross had his splints removed a week later and hasn't looked back.

Understandably his legs were a bit achey at first, but since then his progress has been remarkable and he's thoroughly enjoying hurtling up and down the garden.

We are all delighted that after such a terrible start, Ross has found the lovely forever home he deserves.

---
Posted by Abigail on Thursday 24th of March 2016
Little Florence the Chihuahua is a well-loved family pet.



Recently, Florence was taken out for a walk by her owner's mum, proudly sporting her beautiful brand new pink collar, bought for her just that day. Unfortunately, something spooked Florence, causing her to jump, slip her new collar and run away towards the busy A27. Florence's owner and her mum were understandably utterly distraught and searched high and low for their little dog, but with no luck.


Three days and nights passed, with Florence's owner continuing to search, assisted by friends, family and very kind strangers who were all distressed to hear that this tiny dog was missing from her home.

Earlier today, our nurse Stacey was walking into work when she noticed a movement out of the corner of her eye. She looked and just spotted a little dog running away from her, towards the back of the houses opposite Grove Lodge Veterinary Hospital. Having seen on Facebook that Florence was missing, she recognised her immediately and ran into the Hospital for help in catching Florence.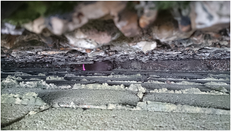 Luckily, Billy Elliott from Worthing and District Animal Rescue Service (WADARS) happened to be here and helped our staff find Florence, who had by this time run behind the garages adjacent to Grove Lodge (see picture!).

Florence was very frightened and not wanting to go near anyone so it was proving extremely difficult to catch her.

We called Florence's family to confirm we had found Florence and what was happening. They were completely delighted and jumped in the car straightaway.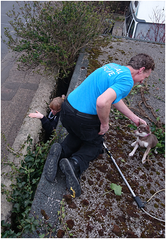 Meanwhile, Billy and the team from Grove Lodge finally managed to extract Florence from her hiding place (pictured left) and bring her up onto the top of the garages!

She was popped in a basket, passed down safely and taken into Grove Lodge to be checked over by the vet.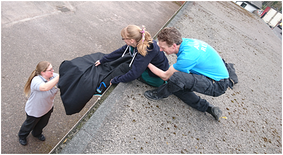 Florence was found to be physically none the worse for her expedition and delighted to see her very relieved family!




Florence is pictured below with our nurses, Stacey and Justine who assisted with the rescue.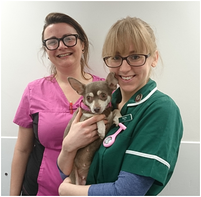 A very happy ending!
---