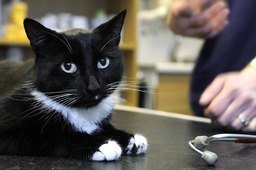 Very sadly, too many dogs and cats have to be rehomed, or worse put to sleep, as a result of behavioural problems which could have been resolved if discussed and treated soon enough.
If your pet has a behavioural problem, book an appointment with the vet in the first instance to eliminate physical causes of your pet's behavioural problems.

When choosing a behaviourist, it is vital they are registered by The Association of Pet Behaviour Counsellors or they are a Certified Clinical Animal Behaviourist (CCAB). Please only use Behaviourists on this register - there are members of the public who call themselves behaviourist, but in fact they are nothing more than enthusiastic amateurs and can do much more harm than good.


Call your nearest branch of Grove Lodge Vets to book an appointment. The sooner your pet receives treatment, the better so don't ignore it and hope it goes away!