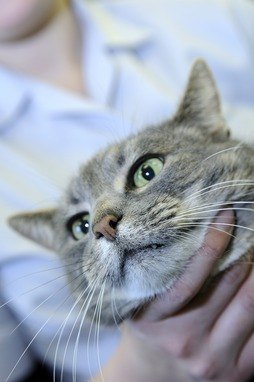 Post-operative for cat dentals
Your cat has received a general anaesthetic and is likely to be quiet and subdued for 24-48 hours. Your cat should be kept indoors for 48 hours post anaesthesia to ensure that they have fully recovered.
Today's treatment
- your cat has had its teeth thoroughly scaled and polished. Any damaged or infected teeth have been removed.
Pain relief
- if your cat has had any teeth removed, it will have received a painkilling injection that lasts for 24-48 hours. If required your cat will have been dispensed some oral painkillers to continue with at home. If you are concerned that your cat appears uncomfortable, please contact the surgery.
Feeding
- your cat may be fed a light meal this evening. A suitable diet is provided by the surgery or you can prepare a homemade meal of chicken or white fish with rice. Ideally do not feed any dried food for the next few days unless it is soaked in water first. Occasionally, after an anaesthetic, animals may loose their appetite and / or be sick. If it continues for more than 24 hours or you are concerned, please contact the surgery.
Clipping
- a small area of fur will have been clipped from one or both forelegs where the anaesthetic was injected. If your cat has had a blood test, fur may have been clipped from under its neck.
Coughing
- your cat may have a dry cough for a few days after surgery. This could be because a tube was put down its throat allowing it to breathe during the anaesthetic. If the cough persists or causes distress, please contact the surgery for advice.
Salivation
- you may notice that your cat dribbles blood stained saliva for a couple of days. This is not unusual but if it appears excessive, please contact the surgery for advice.
Check up
- a follow up appointment with the vet or our pet health counsellor will allow them to re-examine your cat's mouth and to provide further advice regarding dental care.
IN AN EMERGENCY
- If you are worried when you get home, please do not hesitate to contact us. We have a vet and nurses on duty 24 hours a day, 365 days a year at our main hospital, telephone 01903 234866.