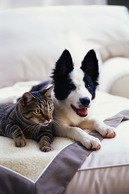 How to Care for Your Pet's Teeth
Dental disease affects not only your pets' gums and mouth but also puts a strain on their major organs.

The constant flow of bacteria from the mouth enters the blood stream leading to potential problems with the heart, lungs, liver and kidneys. Oral hygiene is one of the ways that you as a responsible owner can help keep your pet healthy.

Sweeter smelling breath also makes your pet more of a pleasure to own!

There are 3 main ways of controlling the build-up of plaque and tartar:
1. Brushing
This is the gold standard of oral care. Other methods can help but brushing daily is the best way to keep your pets' mouth clean and healthy.

Many owners are reluctant to try brushing as they feel that their pet is unlikely to tolerate the experience.

Surprisingly many dogs and cats respond in a very positive way and actually enjoy the new attention. The key to successful brushing is to introduce it slowly and without overwhelming your pet. If it becomes a struggle and a stress for you both then it is unlikely that it will be something that you are happy to continue on a daily basis!

Never force your animal to comply with brushing, as it will only turn into a battle in the future!

Initially after your pet's dental the mouth may be sore. We recommend that you do not introduce brushing until after the gums have healed and the veterinary surgeon or Practice Nurse has checked your pet's mouth.

Start by handling the mouth, lips, gums and teeth with a finger - be careful not to get bitten! We do not suggest using paste at this time as they may mistakenly nip you when trying to taste it.

Once your pet is happy for you to handle them you can introduce the toothpaste and brushes. Let them taste the toothpaste first to allow them to know what you are putting in their mouth. Choose a suitable size of brush for your pets' mouth. We stock brushes and toothpaste at all our branches. Please ask if you are unsure as to which are most suitable for your pet.

After each short session of brushing your pet should be rewarded (e.g. praise, play or a treat). This will help them to associate brushing with a positive experience and not a fearful one. Go slowly initially and go back a step if they start to misbehave or wriggle.

Use a gentle action on your pet's teeth. Start with the side teeth as these are most susceptible to problems, teeth at the front can also be more sensitive. Aim only to brush for 2-5 seconds to begin with, building up gradually as your pet accepts and is happy with the new experience.

Ideally puppies and kittens should be introduced to dental hygiene at an early age.

Aim to brush your pet's teeth daily. If just done once a week the benefits will be negligible.

2. Diet
For some pets, brushing is not an option but this doesn't have to mean that your pet's mouth has to be neglected.

One of the easiest ways of helping to keep your pet's teeth clean is by feeding an appropriate diet. Just like us, feeding sugary or sticky foods can lead to build up of plaque. We at Grove Lodge recommend the Hill's specialist dental range of foods (Oral Care and t/d). These diets are specifically designed to clean the teeth as your pet chews. Please ask the vet or nurse which diet would be most appropriate for your pet.

As an alternative to a complete diet change, Waltham and Virbac produce a range of "treats" that can be given to dogs and cats, including Logic Chews, Dental Rasks and Dentabix. These should be used with some of the other methods and only in moderation or you may need to see the Practice Nurses for weight problems too! We do not advise giving bones to dogs.

3. Enzymatic Gels
The third alternate to oral care is the use of gels that do not require brushing.

They keep the mouth cleaner by inhibiting the bacteria that is responsible for plaque build-up.

They are palatable to most pets and can either be put on a small treat, on a paw to lick off or directly into the mouth.

Most require daily application. Grove Lodge recommends and stocks Logic Oral Hygiene Gel.

If you need further advice or help with your pet's dental care please book a free dental consultation with our of our Practice Nurses.
We advise check-ups at 1 month after your pet's dental and then every 3-6 months.
Where Can I Find Out More Information?
You can always telephone your
nearest branch of Grove Lodge Vets
for help and advice, our Veterinary Surgeons and
Practice Nurses are here to help.